Byju's new ad featuring SRK: Wise or Vain?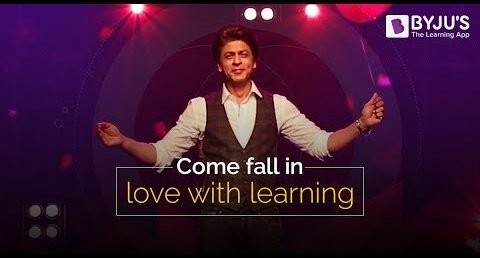 A week ago, a friend of mine whatsapped me a link of Byju's new ad featuring Shahrukh Khan (ad link). Immediately he followed it up with another message "what do you think of it?" Next, he sent me winky smiley soliciting my response.
The smiley made it evident that he was expecting a sarcastic rant from me.
He knew that I am not a big fan of celebrity endorsements (refer my previous post), especially with the recent wave of startup and mobile phone companies using celebrities like nobody's business
To be honest, the idea of using Shahrukh for a learning brand sounded utterly outlandish to me. Really what were they thinking? I clicked on the ad, already biased to mock it as another one of those vanity projects by a hyper funded startup.
I began watching the ad, while mentally constructing a wisecrack reply for my friend. The ad finished, but I couldn't think of anything nasty to say. Wait. May be, I was not attentive. So, I watched it again. Nada…Nothing bad came to my mind. So I watched it again and again and again.
The ad instead grew on me and pleasantly surprised me. I actually liked the ad. A lot. Allow me to explain why.
Byju's positioning has been around helping students fall in love with learning. They said it in their earlier campaigns as well (ad link). It is reassuring to see a brand being consistent on the messaging front over successive campaigns. This sounds elementary but there are so many brands that change their core messaging with every campaign, to an extent that consumers actually stop bothering about what the brand wants to say at all.
So coming back to Byju's, if the objective of the campaign was to further reinforce the core proposition of 'falling in love with learning', then who better to endorse than the biggest romantic superstar of this country who invited us all to "come fall in love" in dilwale dulhania le jayenge and many movies after that.
To me, this one felt like a solid follow up of the previous campaigns. Decidedly more impactful and attention grabbing.
Also, unlike the younger lot of Ranbir, Ranveer, etc. SRK is a father of young kids and has an appeal among both kids as well as their parents –i.e. the consuming as well as the buying audience of Byju's.
I particularly liked the creative treatment of the ad. The surprise reaction of parents on seeing SRK open the act at a school function is almost akin to viewers' reaction on seeing SRK in a Byju's ad. Orchestrated as a musical, where SRK just sets the tone and lets the kids take over is also very clever. It doesn't let the superstar overpower the entire narrative and children still get the center stage.
When SRK asks "Kaash hamare time mein bhi padhai kuch aisi hoti. Hain na Mommies and Daddies?" It evokes that sense of nostalgia among millennial parents who want our kids to really learn and not just rote like us.
In the end when he proposes to "let our children fall in love with learning", you are intrigued whether SRK the superstar is promoting the brand or SRK, the father is appealing to us. Either ways, both work.
For every start up scaling up is key. And for scaling up you need to create quality awareness and demand. Like it or not, television still has the deepest penetration in India. So, when you use the power of that medium with a good narrative and the charisma of a superstar, your message travels far and fast.
A celebrity in a well-woven script like this will give the brand that much needed stature, credibility and eyeballs. Assuming that the brand has an equally strong media plan, this ad will definitely get the target group to sit up and notice the brand Byju's. You see, SRK is not a bad pick after all.
In fact, I liked him more in this ad than any of his movies this year!
Author: Gurudev Prasad
February 19, 2018