Cab wisdom: Life lessons from a cab driver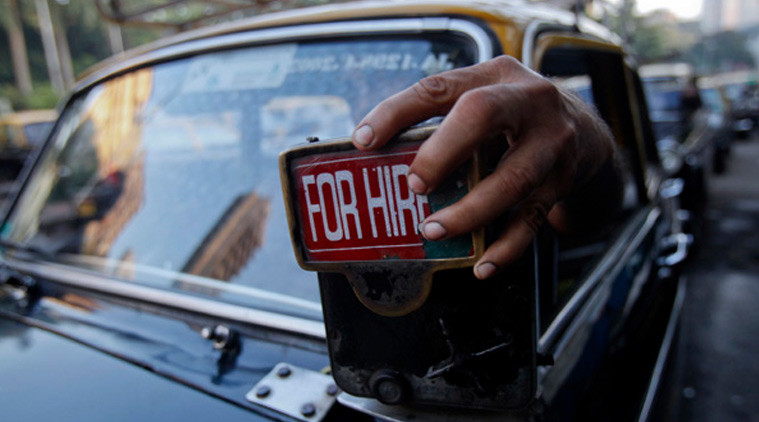 I had just finished my morning run. Marine Drive is one of my favourite places to run. So whenever I am in Mumbai, I choose a hotel in the vicinity.
A good run builds up a good appetite and I was already thinking about the elaborate breakfast spread.
I was both hungry and tired to walk back to my hotel. So I walked up to a Kaali Peeli (the famous black and yellow taxi of Mumbai) parked on the side.
Peeping through the window, I asked the guy "Will you come". He gave me a startled look as if he was interrupted from his sleep. "Please sit," he said, recovering quickly
Hopping in, I told him where I was staying. "I know the place sir", he confirmed. Just before turning the ignition on, he closed his eyes and folded his hands- to say his prayer.
I noticed his tall, lean frame and the bald patch on the back of his head. The stained, velvety seat covers felt like a bad choice for hot and humid Mumbai weather. Finishing his prayer, he turned around. With weary eyes, yet a warm smile he said "Ready?"
My phone rang as soon as we moved- a customary morning call from my wife. After few minutes of casual conversation, I started complaining to her "it has been very hectic. I was working till late last night and have back-to-back meetings again today. The work load is bit too much"
I spotted my driver stealing a curious glance in the rear view mirror. Feeling intruded, I ended the call with "I will call you back".
We should have reached the hotel by now. I asked him suspiciously "How come we haven't reached yet. You know the place right?"
Sensing my doubtful tone, he reassured "Sir. You are my first customer today. I was waiting there since 2 hours and finally you came. I will not cheat you. Don't worry"
Both taken aback and embarrassed, I tried a feeble comeback "No… no… I didn't mean it that way. There is more than one Taj property in this area so I was just reconfirming"
"No Problem sir. Your hotel is just after this signal" he said softly. While waiting for the signal to turn green, he continued "Sir. Can I say something? Please don't mind".
Not knowing what is in store, I reluctantly nodded "Sure".
"Sir. You are very lucky that you have lot of work to do. Believe me it is a blessing. Look at me – I rarely get sufficient customers nowadays. Many times, after paying for the fuel and the daily rent for the vehicle- I hardly have any money left. So sir, I pray to you – never complain about work"
His pain felt genuine and I was suddenly interested in his story "Why is the demand so less. Is there an issue?" I enquired.
"No Sir. There is oversupply of cars in the market. Now there is Ola and Uber- with their apps and offers. Younger people prefer that to the Kaali Peelis. Lately it has been very bad for us"
"What about your family? Have you thought of doing something else? Change this line maybe?" I asked hurriedly.
The signal had turned green by now. Moving slowly- he replied " Sir. Family is in Allahabad- UP. I have been driving a taxi for more than two decades now. I don't know anything else. I tried going back to village and do farming, but my body and age didn't support me. So, I came back and now driving a rented car for last two years"
"Oh…then what is the plan?" I wondered aloud
"No Plan sir. I will just work hard. Do double shifts. Beg, borrow if need be…do whatever it takes…but I will ensure that my son never gets into this line" He had more to add "I keep telling my son to study hard or you will have to suffer like me"
For a moment, I wished my son could hear his words and understand the importance of studies.
We reached the hotel. But I felt unsettled, I didn't want this journey to end yet. So, I spontaneously asked "Ok. If you are not in a hurry- can you show me one or two interesting places near by? Just take me on a drive. I have few minutes to kill"
He looked at me in disbelief and just mumbled on "Sir what are you saying? God is great…he has heard my prayer today. You are very kind"
"Not at all… you are very kind to give me this tour" I shot back. He took me through the popular landmarks in the vicinity. The usual suspects I had seen before. But his enthusiastic and made-up commentary about each place made the ride enjoyable.
He was upbeat now and suggested "Sir let me show you Mr. Mukesh Ambani's house. It's a marvel"
How could I refuse that.
Approaching Antilia- he enquired "Sir do you want to take a selfie?" sportingly I passed "No need. Next time"
Looking at his watch, he wondered "Should I take you back to the hotel now".
"Yes" I said. Gazing out of the window, taking a deep breath- I realized what a beautiful morning it has been.
As he stopped outside the hotel, I dig into my pocket for money. I pulled a 500 Rupee note and handed over to him.
He looked at the meter and apologetically requested "Sir can you give me change. You are my first customer so I don't have change"
I smiled and offered, "Please keep it. That's for showing me around. For being such a wonderful guide"
He was hesitant but I insisted. He held my hands in gratitude and said "Thank You sir".
I reciprocated instinctively "No. Thank you for teaching me such a wonderful lesson. I will never complain about my work now"
As he drove off, I waved to him like an old friend. I was hungry again.
Author: Gurudev Prasad
March 6, 2019